A Sure Way to Keep Mischief-Makers at SekiApp's Bay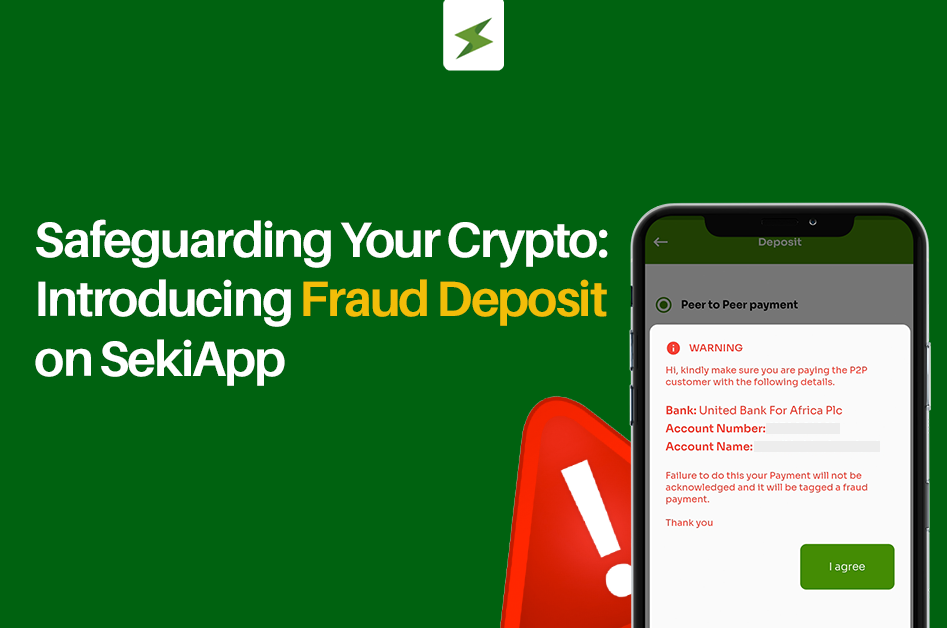 In the realm of cryptocurrencies, trust is the currency that matters most. At SekiApp, we take security seriously, and we're here to ensure that your crypto journey is filled with excitement and free from mischief makers. That's why we've unleashed our secret weapon: the legendary "Fraud Deposit" feature. Get ready to keep those scammers at bay and embark on a thrilling crypto adventure like never before..
What is Fraud Deposit on SekiApp?
Fraud Deposit serves as a powerful tag that identifies deposits made from an account different from the one selected at the point of deposit on SekiApp. Simply put, if you're Ciroma Chukwuma Adekunle according to your BVN and name on SekiApp, you must choose an account that matches the exact combination of names. Moreover, if you select UBA as your bank, you cannot make your deposit from Zenith Bank, even if it belongs to you.
What Happens when you deposit from another account?
By depositing from another account, you run the risk of not receiving your funds in your SekiApp account. The system encounters a disconnection, making it unable to link the deposit to the selected account. It's crucial to abide by this rule to ensure a smooth and secure transaction process.
Is there a caution to avoid making the mistake?
We understand that remembering this unique process may not always be easy. That's why we've implemented a helpful caveat at the point of deposit to remind you of the necessary precautions. Stay attentive and ensure you follow the guidelines to safeguard your assets.
What if I still forget?
We've got you covered. If you happen to overlook the warning, a pop-up reminder will ensure that you acknowledge and accept the terms before proceeding. This extra layer of protection ensures that you have every opportunity to make informed decisions and safeguard your financial transactions.
Conclusion:
At SekiApp, security is not just a buzzword; it's our utmost priority. With the introduction of the Fraud Deposit feature, we're setting new standards in the crypto world, empowering you to trade with confidence and peace of mind. Don't let mischief makers tarnish your crypto journey. Embrace the Fraud Deposit feature, stay vigilant, and unlock the full potential of SekiApp's secure and innovative platform. Your crypto adventure awaits, safeguarded by the watchful eyes of SekiApp.