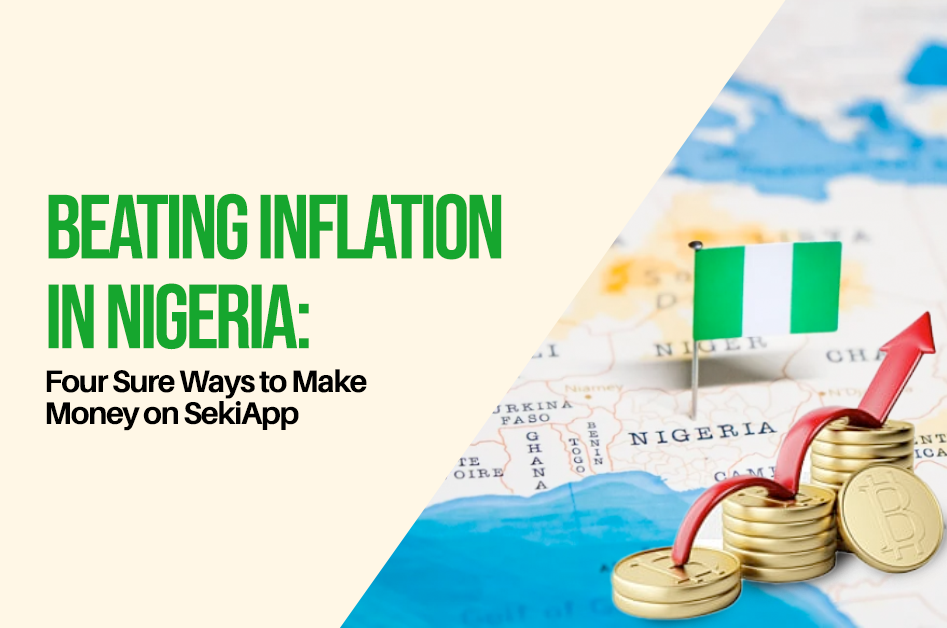 Imagine this: You're setting out to create a prosperous financial future for yourself. You work hard every day, earning your living like a genuine champion. The problem is that no matter how much money you make, it seems to vanish into thin air. Sigh! It seems as though the financial gods are hiding and seeking with your hard-earned Naira. If you can relate to this frustrating puzzle, you're not alone.
Meet Michael, our fellow Nigerian hustler, battling the same financial woes. He's been earning, but something's just not adding up. Luckily, a friend named Akanbi comes to his rescue with a solution that changes the game forever – SekiApp!
But what exactly is this SekiApp magic, and how can it help you thrive amidst inflation? Grab a seat and get ready for the grand reveal!
Imagine having a trusty ally in the face of inflation – SekiApp is exactly that. With this powerful tool by your side, you'll not only survive but shine like a Naija superstar in these turbulent times. Say goodbye to the days of your hard-earned money disappearing faster than fried meat at a Lagos owambe.
1. SKP Cashback – Raining Money with Every Trade!
Wipe those tears of financial woes, because SKP Cashback is here to make it rain! Yo, it's like magic! With every trade you make on SekiApp, we'll be cheering you on with cold, hard cashback. Yes! That's right – while others grumble about inflation, you'll be laughing all the way to the bank. Your trading prowess is about to turn into a money-making machine!
2. Referral Program – Be the Hero of Your Squad!
Calling all trendsetters and hustlers! It's time to become the money-making hero of your squad! Hear that? With SekiApp's Referral Program, you can earn like a boss and spread the financial abundance to your friends. You're the real MVP! Simply invite your pals to SekiApp, and when they hop on the money train, both you and your amigo will get jaw-dropping rewards. Let's grow together!
3. Buying USDT and HODL-ing – Rise with the Dollar!
The dollar keeps rising, but guess what? You can rise too! With SekiApp, buying USDT is a savvy move to tackle inflation head-on. Buy low, wait for it to rise, and sell high – that's the money-making recipe! As the value of your money increases, so does your profit. HODL tight and watch your wealth grow! It's like a golden ticket in the midst of financial uncertainty!
4. App Download Bonus – Get a Sweet 2k Just for Joining the Party!
Wait, there's more! As a token of our appreciation, we're gifting you a fabulous 2k bonus just for downloading SekiApp. It's a party, and you're invited! No strings attached – just download the app, and the bonus is yours to kickstart your money-making journey. Celebrate good times, come on!
Conclusion
So, this is it – the game-changer you've been waiting for. With SekiApp, you'll unlock the path to financial freedom and conquer the mystery of inflation. No more feeling lost in the hustle, as SekiApp has got your back
So, what are you waiting for? Take charge of your financial future! Download SekiApp now, embrace the money-making frenzy, and defy inflation with confidence! Chat with our friendly team, and together, we'll soar above the challenges, making money moves like never before!