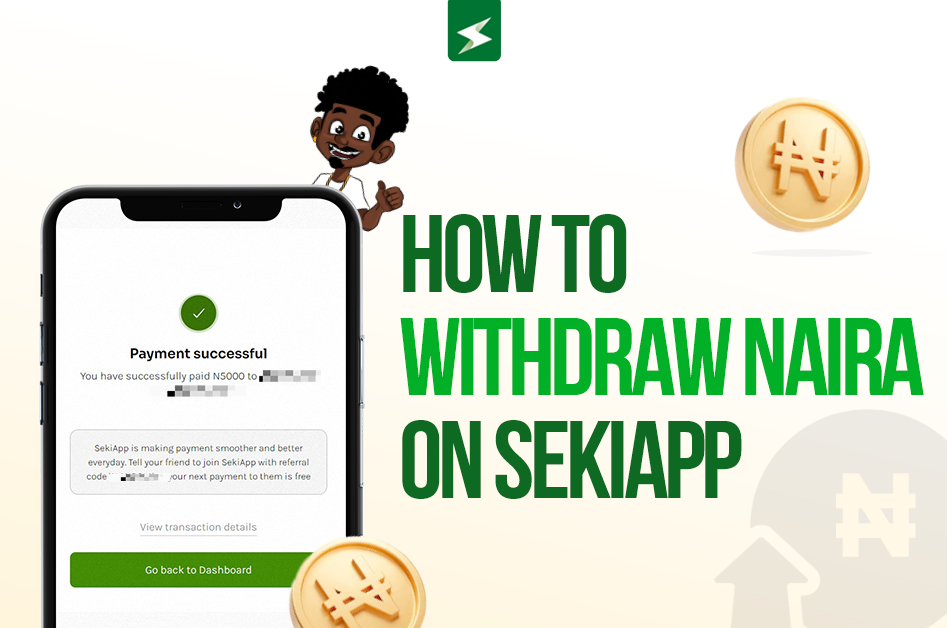 You've rocked the trading arena and now it's time to enjoy the spoils of your victories! Withdrawing your precious Naira from SekiApp is like grabbing your share of the digital treasure chest. So, gather 'round as we spill the crypto beans on how to transform your digital assets into real-world awesomeness. This step-by-step guide will make it as easy as sipping your morning tea.

Different Ways to Initiate Withdrawal
1. Sending to Any Bank of Your Choice:
Think of it like paying for your favorite snacks at the corner store or simply depositing money into your bank account. With SekiApp, you have the freedom to withdraw your Naira and see it right in your bank balance.
2. Sending to Another SekiApp User (Transfer):
This is another fun way to make your money go out of your account willingly! it's a simple way of withdrawal that requires just your friend's SekiApp username, and voila! Instant transfer, just like that.
Initiating a Naira Withdrawal
Now, let's get to the good stuff: the step-by-step guide to withdrawing those Naira notes (or maybe just the digits😉). It's as easy as taking a sip of your chilled zobo on a hot day with these simple steps, I promise.

1. On your dashboard, click on the "menu" icon located in the bottom right corner of the screen.
2. From the options, select "Withdraw (Naira)."
3. Choose your preferred bank, enter your account number, and input the withdrawal amount.
4. For added convenience, toggle the "save as beneficiary" button for recurring transactions.
5. Next, give that "Withdraw" button a confident click.
6. Enter your PIN, you know, the secret code that makes us sure it's truly you.
7. Finally, punch in the OTP sent to you, and click on transfer
Easy peasy!


Benefits of Withdrawing (Transfer) to SekiApp Users
Zero Fees, All Fun:
Forget about hidden charges or surprise deductions. With SekiApp, transferring to another user's account is absolutely free.
Blink and It's There:
It's almost like magic! The moment you hit that "Send," the recipient gets their funds faster than you can say "cryptocurrency."
Mobile and Web: Your Choice, Your Convenience
Remember, whether you're using the SekiApp mobile app or the web version, the steps are identical. It's all about making things convenient for you, wherever you are.
Legal and Security Notice
Hold up, before you complete the transfer, double-check all account details. Just like confirming your order before hitting "Checkout" online, it's vital to ensure every digit is in place. Safety first, always.
Conclusion:
And there you have it! Withdrawing your Naira from SekiApp is as easy as pie. Your crypto journey doesn't end with trading – it's also about enjoying the rewards. Whether you're withdrawing to your bank or transferring to another SekiApp user, it's a seamless process that puts you in control. So, go ahead, enjoy your gains, and keep rocking the crypto world with SekiApp by your side.